Real-Time Construction Field Reports
Collecting data from a job site has always been difficult because it's typically inaccurate, incomplete, or slow. But Smart Construction Field easily captures site activity automatically, in real-time, allowing you to answer one simple question, "Did we hit our targets today?"
The Benefits of Digitizing Your Job Sites
Quick, easy and accurate autonomous job site data collection

Easily track and analyze daily spend

Track job site daily activity

Make better business decisions
Track Job Site Activity with Smart Construction Technology
There are multiple functions you can use to monitor your job sites.
Gather & Record Job Site Activity in Real-Time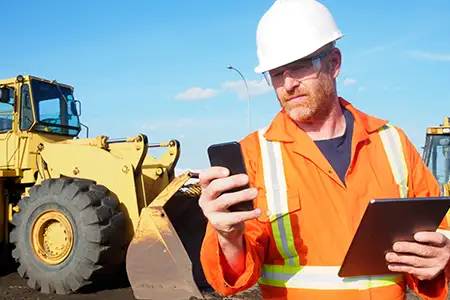 Your foreman or superintendent can use Smart Construction Field as their own personal accountant, tracking all of the information in real-time. It also allows project managers to manage the job site and keep track of paperwork at the same time.
What Our Customers Say
The Smart Construction Field app is very simple, and that was really important to me and my crews. The ability to clock in by the push of a button – or the reminder when they forget and pull onto a job – is what we really needed. This tool tracks everything I want, from labor to equipment, autonomously. It really takes the guesswork out of how much time we spend completing tasks, and the integration with Smart Construction Office increases efficiency.''
STEPHEN TUPPER
ESTIMATOR/PROJECT MANAGER, BATEMAN BROS CONSTRUCTION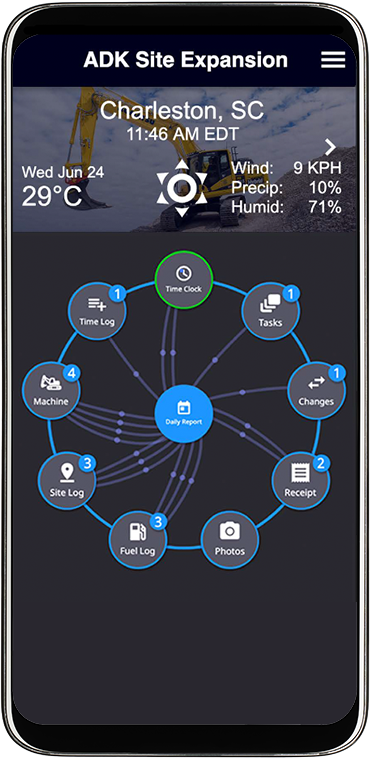 How Smart Construction Field Works
By automating and digitizing time tracking, job site progress, and project financials, Field centralizes job site data collection through the use of:
Robust time tracking capabilities with geofence notifications and approval workflows

Automated machine tracking with Bluetooth Low Energy devices regardless of manufacturer

Digital machine inspections with notifications and audit capabilities

Fuel tracking across equipment and job sites

Consolidated reporting of job site activities including daily reports, project costs, and payroll

And much more…
All of the information from your job sites is collected and analyzed for management and cost analysis.
Everything is Better Together
Smart Construction Field and Smart Construction Office work amazing together. Data from Smart Construction Field can be synced to Smart Construction Office - meaning your project management system is easy to understand and provides clear insights from the field to your back office.
Contact Us
Have More
Questions?
We would be happy to answer any questions you may have for us. Contact us today.
Get the App